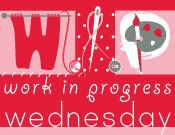 I do have 2 WIP's but they are both gifts so I am not sharing any details until they have been gifted.
My buttons from Moving Mud arrived yesterday and I promptly sewed them on my Snapdragon Mitts. I am so pleased how they look.
Here they are with the matching hat


This is Kennedy's Hanukkah hat and mitts. I used EZ's ganomy pattern and the set was knit in less than a weekend. I plan to knit myself the mitered mitts as well.