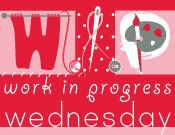 I finally have some FO's to show off!
Last night I finished the thumb so my Snapdragon Flip Tops by Ysolda are complete. I am just missing the buttons but I am all set to order them. While I love how they turned out, I found the pattern to be a little confusing at times but the second mitt did go much faster than the first.
Aren't they lovely?
I knit them using some stash Malabrigo (I had 2 skeins) and I am using the second skein to knit the matching Snapdragon Tam. The Malabrigo was perfect for this project, so soft and squishy.
I have a second project to share as well. This one is a gift for Kennedy and I am hoping to finish it for her as a Hanukkah gift.
This is the Sock Yarn Sweater by Hannah Fettig. It is going pretty quickly despite the thin yarn. I am debating knitting one for myself but I am not sure I will be in the mood after I finish Hannah's featherweight cardi out of lace weight yarn. I am all swatched for that but need to catch up on some other projects before another sweater. 
This sweater is also knit out of stash yarn. It is sock yarn from Three Irish Girls in the Mckenna colorway.

Happy knitting!