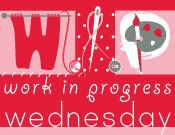 As I mentioned earlier in the week, things have been busy around here preparing for upcoming events. I have a lot to share about the baby shower preparations but I will do that tomorrow.
I do have some completed projects and WIPs to share and I need to ask you to forgive the horrible photos. I am not a great photographer as it is and I think these are worse than usual.
The first project is my completed Snapdragon Tam. I adore it. I finished it about 15 minutes before K and I headed to our monthly La Leche meeting and I was so excited to wear it. It was fitting pretty poorly because it is not blocked but it is very warm and the Malabrigo is so soft. I will add more photos after I block it.
Next up is a simple beret I knit for my Grandma for Hanukkah. I made up the pattern as I went and used Manos Wool Classica. I was not loving the yarn as I knit but I do like the finished product.
Now for some WIPs.
First up is the beginning of a hat for K. I am using EZ's Ganomy pattern. I am excited about it because I can knit her a new set (hat and mittens, using the Mitered Mitten pattern, also by EZ) every year as a Hanukkah tradition. I am using stash yarn, from Laines Magnifiques in the colorway Jubilee. 
I also have a super secret project in the works. Other than the photo, I will share no other details.