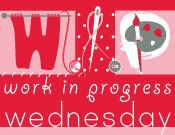 I have been whipping through projects lately, I am sure the fact that I am only knitting on one project at a time helps.
 I finished 2 more gifts and sadly, cannot share them, yet. As soon as all my gifts are gifted to their owners, I will share photos of all of them.
There is one gift photo I can share though...
This is a little doll sweater I knit for Kennedy's new doll. I used Waldorfmama's pattern and while it was simple and lovely, I am in the process of changing things around to make it seamless. 
I am also working on a pair of Mitered Mitts for myself. I finished the second one yesterday but somehow I measured incorrectly and it was a full inch to short. I had a terrible time ripping back and just frogged the entire project.
In non-knitting new, I really want to make a new banner for my blog but have no idea how. Can anyone help me?